Opening of our school-boutique

Back in July 2022, we moved our French language school to our brand new location in Montpellier at 2 rue Jules Ferry.

Our aim with this move was to open a school with high quality infrastructure, very friendly atmosphere and access for all. We are now offering our French language courses in a charming building where we can greet everyone, including people with reduced mobility (ground floor, no step).

​​​​​​​ A human-size school with personalised service and follow-up

The school's reception is now located in a bigger, more accessible and inclusive place (ground floor accessible to people with reduced mobility). We are also using the space for 8 classrooms.

Right from the first day, you will know the whole school team and everyone will know you as well. Offering a top quality experience to our students is our main goal and to that end, we have chosen to open a human-size school with limited capacity. You will enjoy a personalised follow-up and real connexion with the people here.
​​​​​​​​​​​​​​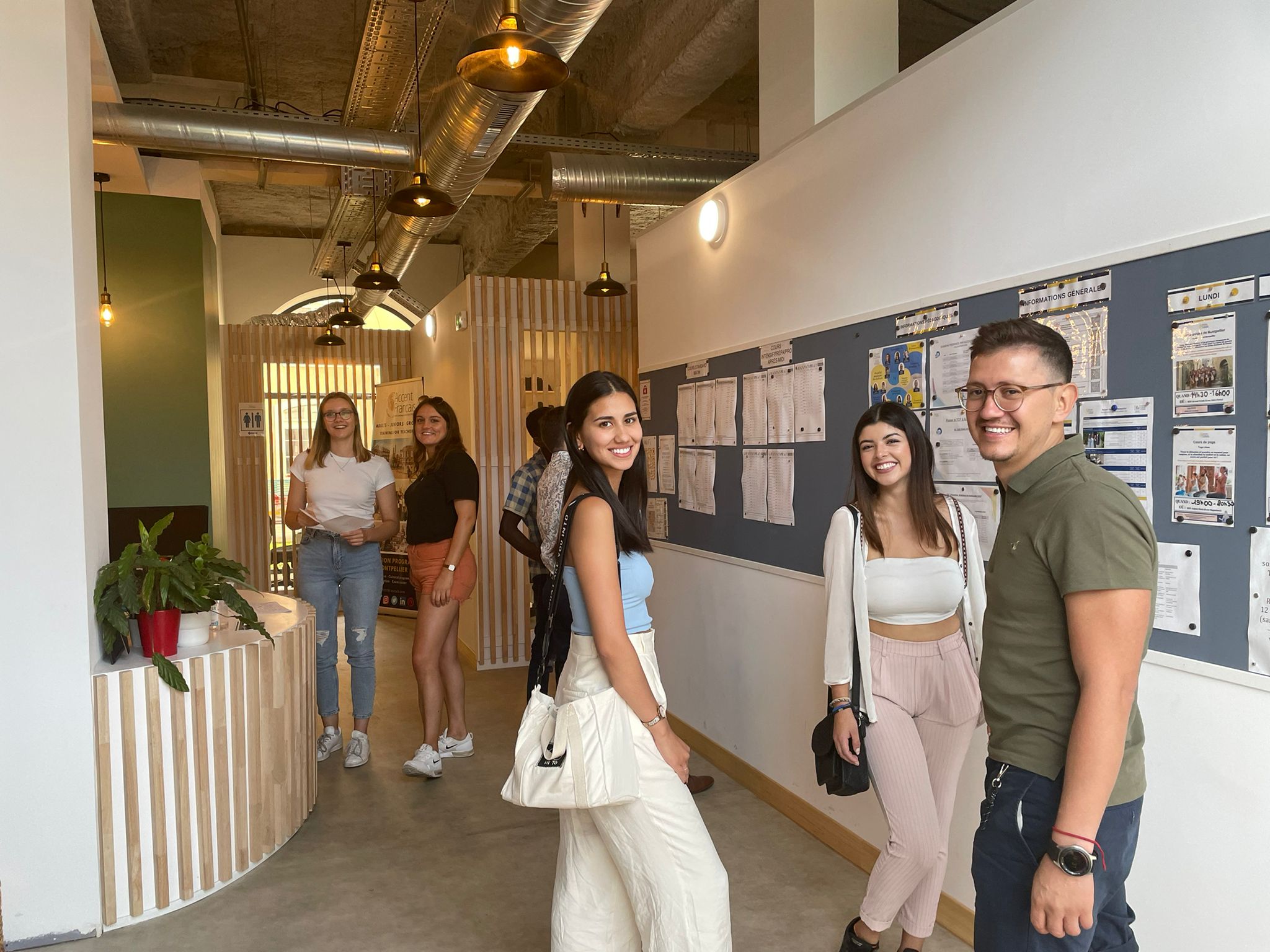 ​​​​​​​Very central location and easy access to public transport

Located a few steps away from the train station Gare Saint Roch and the very famous Place de la Comédie, this new building combines the historic exterior façade with the modern technologies inside.

Located in the heart of the city, the students can easily find our French language school and will enjoy the magic of our historical centre, which is part of the largest pedestrian area in Europe!

It only takes 2 minutes to reach the tramway network. The closest stations are Place de la Comedie and Gare Saint Roch - République to reach all existing lines.  It is also very practical to make your way to the beach after the French lessons!
​​​​​​​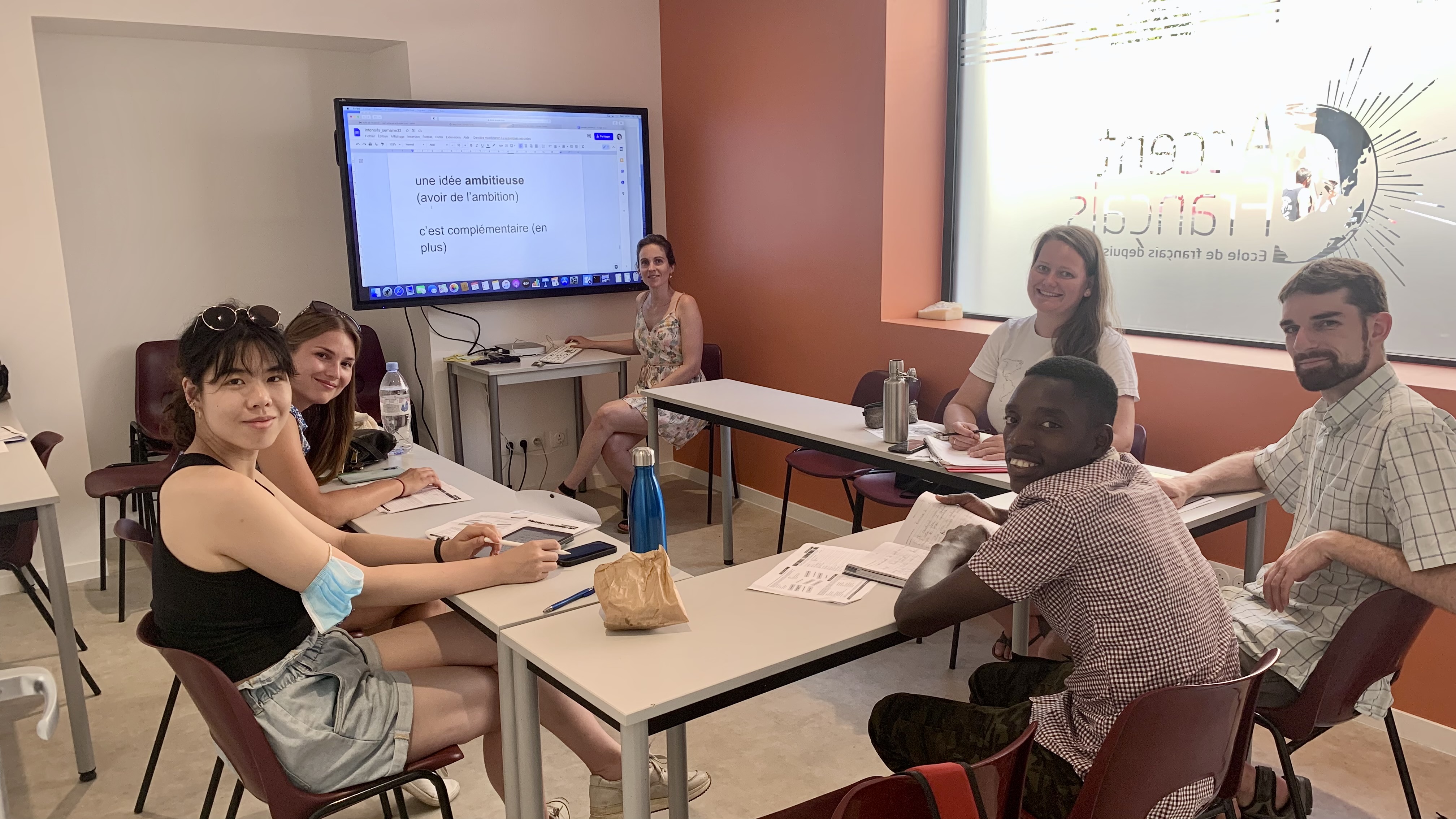 A nice area and an ideal environment
​​​​​​​
Around the school, our students have a wide variety of international restaurants where they can use their vouchers if they have booked a package or enjoy discounts with their student cards Accent Français for their meals.

We also have 2 grocery stores (Monoprix, Intermarché) about 500 meters away, 3 bakeries and at least 5 grocery shops (Vival, Casino…) almost next door for your snacks. Inside the school, you will also find a vending machine with freshly-blended coffee as well as fresh drinks and snacks.

For the activities in the afternoon, the new meeting point is 2 Rue Jules Ferry in front of the school. The meeting point for the excursions with  Oculture remains at 25 Rue du Grand St Jean, only 500 meters away from our school. 

New modern classrooms

Each of our 8 classrooms is equipped with an interactive whiteboard, tables and chairs. The rooms are bright and the space is comfortable for our groups of 8 students on average (12 maximum) to encourage interaction in French.

Thanks to the interactive whiteboard and WIFI available free of charge throughout the school, our teachers share with you the course documents in digital version and propose dynamic courses including interactive activities using modern platforms or applications for work in mini-groups or for the realization of class projects.

The whole school has air conditioning and heating. The temperature is always good and it is very comfortable in summer, as it can be hot in the south of France.

Do you want to come to France and enjoy an unforgettable immersion stay? Do you want to make sure you have a fantastic experience? Choose Accent Français, a school with the Qualité FLE label and a member of the Groupement FLE, it is your guarantee of a reliable, quality programme!

See you soon!

The Accent Français team
contact@accentfrancais.com